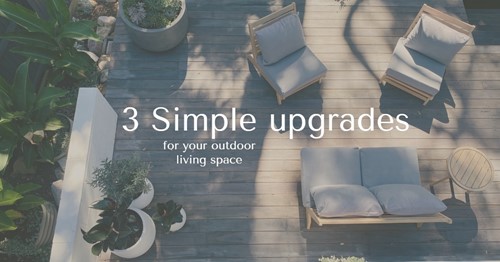 Regardless of temperature, it's never too soon or too late to start thinking about improving your outdoor living spaces. If you want to spend more time outdoors, your backyard, side yard or even a small balcony can be the perfect place to get some fresh air.
If your outdoor space needs a refresh, try some of these simple upgrade ideas:
Add shade & privacy
Create shelter in your outdoor living space to improve your comfort and privacy. Conveniently, you can accomplish both goals at the same time by adding outdoor features like screens, fences or trellises.
For porches with an existing overhang, try hanging outdoor curtains for a simple shade and privacy solution. You can use light, airy fabrics to enjoy the natural light while sheltering your outdoor space from harsh rays.
For a boho chic approach, try adding eclectic patterns and colors. You can carry this style choice through to your outdoor furniture and decor to create a cohesive design.
Create an oasis with lush container plants
You don't need expansive ground space to have a lush, beautiful garden in your outdoor space. There are plenty of options for container plants, both for functional and decorative purposes.
For a small space, vertical garden planters are ideal for adding greenery with a small footprint. Planting a personal herb garden is the perfect option for saving space while perfectly accenting your indoor or outdoor kitchen.
Try incorporating a mix of vibrant flowers in hanging baskets and tall, tropical plants in decorative pots to create the perfect backyard oasis.
Expand your seating options
A simple way to upgrade any outdoor space is by upgrading the outdoor seating and other furniture. If you like entertaining at home, it's crucial to have enough seating to include your guests. To save space, try contemporary folding chairs with weather resistant cushions.
Arrange your seating around a focal point like an outdoor coffee table or fire pit. If your outdoor space boasts a beautiful view, focus your seating outward to enjoy it to the fullest. Incorporate lounge chairs and more upright seating to accommodate your every whim, from a quiet nap to an exciting outdoor dinner party.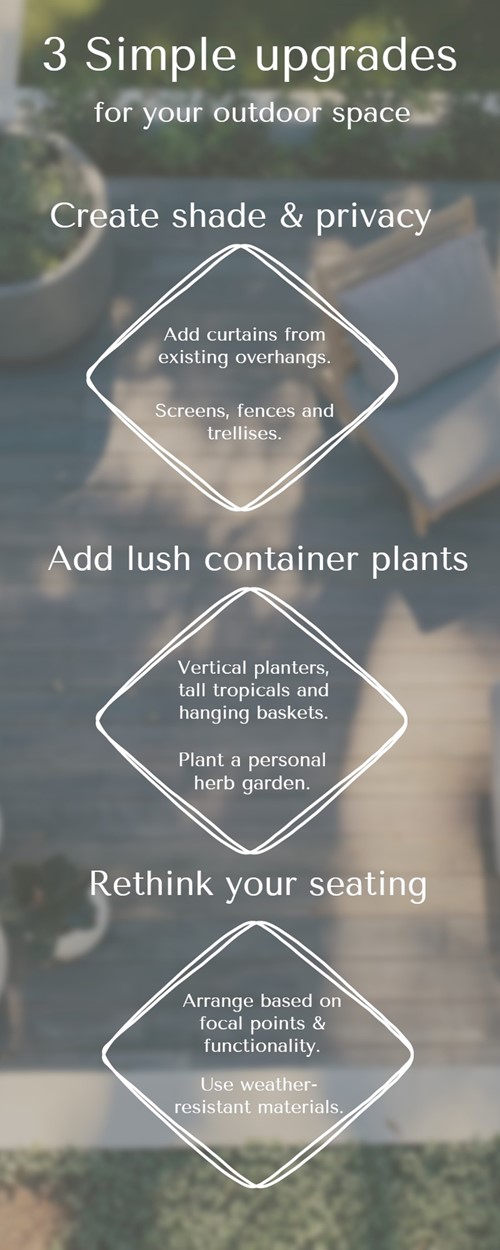 Upgrading outdoor living spaces can be as simple as addressing your needs and personal style. By using these ideas as a starting point, you can take your outdoor space to a new level and enjoy it for seasons to come.